Opening hours, parties and much more about the most desired market in Ibiza
This essential meeting point is located next to the town of San Carlos. It offers much more than fashion and accessories, there is also music, concerts and gastronomy
Any visit to the island of Ibiza has several essentials and Las Dalias Market is a highly recommended must from 0 to 99 years old. In addition to the stalls with fashion, accessories, crafts and decoration, you can also enjoy a delicious fresh juice, homemade empanadas, sweets or a classy lunch or dinner. This essential meeting point is located just under 30 minutes by car from the Port of San Miguel. There is paid parking but entry to the markets is free. However, in some of its parties you do have to pay an entrance fee. If you still don't have a rental car you can find one on our website and also, if you have any questions you can ask us at our reception.
Market days and opening hours
During the summer months is when the market is shown in all its splendor and it opens almost every day of the week, with live music and all its restaurants. The market opens on Saturdays from 10:00 a.m. to 5:00 p.m. and on Sundays from 11:00 a.m. These two days you can enjoy nearly 300 stalls full of exoticism and originality. From the month of June to September, the hours are extended so that no one is left without visiting this unique place in the world.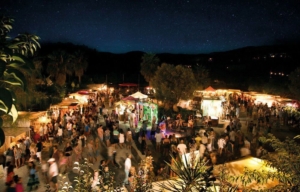 In the middle of the summer, from June to September, and due to the large influx on weekends, the more relaxed versions are added, which are the night markets on Mondays and Tuesdays, which begin at 7:00 p.m.  These days the stalls are reduced to a more curated selection according to strict criteria of quality and originality and they are usually exclusive to these nights. In addition, to set the mood for these evenings there will always be live music that creates a unique atmosphere of harmony that will take us back to the golden age of the hippies on the island, a true gift for the senses. You can check possible variations in schedules on its official website.
Savour Las Dalias
There is a lot of shopping to do at the Las Dalias but, in addition, there are also many options to enjoy its gastronomy. The menu of its restaurant explores both the Mediterranean flavors and those of Thailand,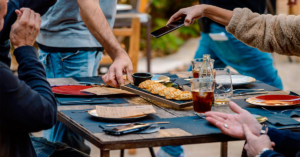 Morocco or India, creating a new cuisine concept. Added to this alternative are numerous food trucks scattered throughout the route on market days, like its juice bar that together create an authentic
flavor festival. Try their pizzas made at the moment with various types of flour. Also their Mexican tacos, their salads, paellas, cocktails with and without alcohol and much more to enjoy its unique atmosphere.
Life concerts in Las Dalias
But this market hasn't become famous only for its crafts, throughout the summer they hold live concerts with national and international musicians, such as Orishas, Chambao or Dj Sven Väth among many others in a tour of artists that came to bring to Bob Marley himself! Also every Wednesday it's time for, Namasté, this party  has 20 years of history and is highly recommended. Basically a celebration of life, full of colour, dance, laughter and a 100% Las Dalias atmosphere.
Finally, our recommendation is to bring your mobile phone or camera well charged because on this visit you can take precious photos of unforgettable moments. As well as get the most original memories for the whole family.